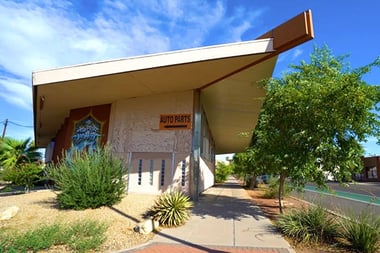 Downtown Phoenix has become more complete with the revival of the historic Paper Heart Venue, located at 750 NW Grand Avenue. The venue is ready to be relaunched into a place where creatives from all over the Valley will be able to express themselves in a heartbeat. The "hybrid" space will breathe new life as a music venue, art gallery, photo studio and selection of retail shops. This revived venue, one that is close to the hearts of many Phoenicians, will host a plethora of events ranging from concerts to weddings, corporate events to community gatherings, healing arts and yoga, to food truck offerings, and possibly even a weekly farmers market.
Defibrillated by a dynamic group of powerful and creative minds, a plan has been put in motion to place the Paper Heart venue back in the forefront of the Downtown Phoenix arts and events scene. The team behind the project includes Brandy Wise, a body painter and artist, owner of Rainbow Lick'd; Forrest Fowler, an Arizona native, entertainer and former owner of the Night Gallery; Jonathan Luther, a musician, nonprofit consultant and the creator of the local Full Moon Festival; and Rodrigo Izquierdo, Chilean photographer and entrepreneur. These four locals have partnered up to bring the historic Paper Heart back to life.
"The renewed Paper Heart Venue will feature all the arts for all the hearts," as booking coordinator and creative force Cherish Coole shared. "It is also a strategic addition to the inevitable growth of the Grand Avenue Arts District and development, which will soon be the home to artists in the Downtown Phoenix area."
Scottsdale-based commercial real estate developer SimonCRE purchased the historic 8,800-square-foot property in December 2017 from Tuft & Needle. The developer has invested significantly in the area, as they were also responsible for the redevelopment of the Tuft & Needle headquarters at 735 Grand Avenue, and currently own a 5,000-square-foot redevelopment project adjacent to Tuft & Needle.
"It's been incredible to be a part of the increasing activity along Grand Avenue, and it says something about this area to see it continue to draw attention from a number of new, exciting tenants," says Joshua Simon, Founder and CEO of SimonCRE. "This new exciting new venture in this historic setting will surely spark more activity and interest in creating a fun, vibrant atmosphere here along Grand Avenue."