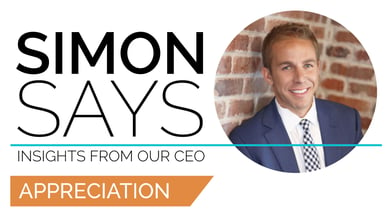 The Thanksgiving season is upon us (where did this year go?) – a time to reflect on all we have to be grateful and appreciative of. But for our employees, coworkers, and business colleagues, there is no season for giving thanks. And that's because it's something we should ALWAYS be doing. In the workplace, it's a 365-day season.
Showing gratitude to those around you offers benefits on an individual and organizational level. Regular recognition means a happier, healthier, and more productive workplace. According to Globoforce, 78 percent of employees would work harder if they were better recognized.
So, in the spirit of the season, let's take a look at 4 simple, yet powerful ways to say thank you to your colleagues and peers:
Make it personal and make it specific

Try to thank people in a way that you know they'll truly appreciate. Make it personal. Everyone takes compliments differently and prefers recognition in different forms, so think about that as you look to recognize people.
I also think it's important to recognize people for their specific actions. If someone goes the extra mile to complete a particular task, it helps to pinpoint that specific task, as opposed to a general "good job".
One of the unique approaches I take is by writing hand-written notes to employees, business partners, etc. It's not so common in today's day and age, so it stands out and it's personal. It's also a great time for me to be able to reflect on who I'm writing the note to and why I'm so appreciative of them.
Recognize Opportunities

We should always look to take advantage of opportunities to acknowledge those around us. Recognition can sometimes be most effective when doled out in the context of a larger goal or business-related accomplishment.
Being humble in knowing that success is most often a team effort can be one of the best ways to show recognition. I find that it means a lot to take time during personal or company recognition events to celebrate the collective work of those around me. Try not to miss those opportunities.
The Little Things Matter

Sometimes the smallest recognition can mean a lot to those around us. They don't need to be grand gestures of recognition for people to feel appreciated.
Far too often there can be a divide between boss and employee and relationships can feel out-of-touch. Taking time and showing genuine interest is invaluable. I find that simply saying hi and acknowledging personal hobbies and activities in someone's life can mean more than we might think.
Create a Culture of Gratitude

Giving thanks and showing appreciation should be part of your culture. People have an innate desire to feel appreciated and reciprocate that appreciation. We try to make it something we do on a regular basis and we've even created our own VIA Cup. It stands for Values in Action and is a way for our team members to recognize each other. It's a program implemented by our team, for our team.
So, whether gratitude is shown from boss to employee, or co-worker to co-worker, creating a culture of gratitude creates a happy and healthy workplace. A mere sign of recognition from leaders, bosses, and coworkers can go a long way.
As mentioned before, regular recognition means a happier, healthier, and more productive workplace. Try to be continually grateful for those around you, show them gratitude, and make the Thanksgiving season a year-long approach in the workplace.