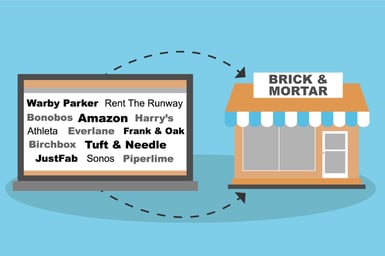 For several years now brick and mortar retailers have fret over the future of their existence due to the rapid growth of ecommerce. But not so fast my friends. Reputable online retailers like Warby Parker, Bonobos, Birchbox, Tuft & Needle, Everlane, Harry's, and mega retailer Amazon are stepping forward to lay claim to physical retail space because they've seen the real writing on the wall.
These companies, as well as many others, are transitioning from clicks to bricks because they've seen the value in providing real, in-person experiences. For example, designer Lee Broom, who started out selling products online, opened a pop up shop in New York and saw his sales jump 50% over a 12-month period. "People want to see the pieces in person, get the scale, look at the materials and touch them," says Broom in a New York Times article. That's why, shortly after, he opened his first, full physical location. And many other online retailers are beginning to focus on the earning potential of physical locations.
The Numbers Speak Volumes
While much has been made over the last handful of years about the growth of ecommerce and online retailers, the truth of the matter is that online sales account for such a small percentage of total retail. There's a huge percentage of transactions that still occur in brick-and-mortar stores.
And despite the growth of ecommerce, that's a market size that many online retailers can't ignore.
Experiencing It
For these "clicks-to-bricks" retailers, the transition has been about providing traditional opportunities for consumers to truly experience the brand and the products. However, this doesn't necessarily mean these companies are following in the footsteps of traditional retailers. Retail spaces are morphing into part store, part showroom, part gallery. They're becoming more like hubs for brand awareness while providing a unique retail experience.
Companies such as Tuft & Needle, and online mattress retailer who recently opened a new showroom in Scottsdale, AZ, are using these brick-and-mortar stores as ways to bring their products closer to consumers, while still providing the ease of online purchasing and home delivery. And despite have a terrific return policy for online purchases, the majority of the population would rather test the product before committing to a purchase. So, as their newest location demonstrates, it's about creating an experience for the consumer. It's about developing a space for companies to showcase their products in-person, while providing a human touch.
The same goes for trendy eyewear brand Warby Parker, which started in 2010 as strictly an online retailer. They quickly learned though, that physical retail locations were just valuable as their online retail. The company has opened 47 brick-and-mortar stores to date, and are planning on opening another 25 by the end of 2017. They've taken into account the store layout, the size of mirrors, the lighting, and a host of other factors that play into the customer's preferences. They've not just moved into physical stores, but worked to develop them into the right kind of store for shoppers. Their ultimate goal is to make the shopping experience as easy, robust, and memorable as possible for the consumer.
And Then There's Amazon
And there there is online retail giant Amazon. The company recently announced another bookstore location to open in Walnut Creek, California, making it the fourth such store, with plans to open another five in the coming year. As the company's chief financial officer Brian Olsavsky notes, its physical stores are "a really great way for customers to engage with our devices and see them, touch them, play with them and become fans."
In addition to bookstores, the company began a testing phase of its first Amazon Go retail store in Seattle late last year, and are constructing a couple of new drive-up grocery store concepts as well. And while Amazon's ultimate intentions for brick and mortar are unknown, recent reports of a massive hiring spree that would add 100,000 workers have many speculating that the retailer is preparing to dive deeper into the physical retail world.
There's a lot to be said about the boom of clicks to bricks. Retailers are seeing opportunities to reach consumers in a way that just isn't possible through a computer or mobile device screen. They are seeing offline retail as a way to fully maximize the customer experience. And today's consumers want to shop when, where, and how they want, and physical stores will no doubt continue to fortify themselves as the preeminent retail channel.