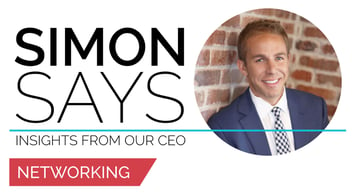 "If you are the smartest person in the room, then you are in the wrong room." I take that philosophy to heart, because your ability to learn is amplified by surrounding yourself with people that are much smarter than you.
We've talked about time and quitting the things that aren't getting you to your ultimate goal, so it's important to find the right networks for you – the ones that are going to push you to learn and grow.
Here are some tips for building your network.
Don't get siloed by your daily routine
Don't get so focused on your day to day tasks that you never explore options to learn and to network. Whether or not you're in a leadership role, or if professional networking is a part of your job, creating a group of people to share ideas with is vitally important.
As I've said before, don't rely solely on a book or newspaper article to provide you with all of the knowledge you might need to be successful at your job. Set aside 30 minutes out of your day to reach out to people on LinkedIn, or research organizations within your industry and find out when there may be meetings.
Don't turn into a turtle
When it comes to professional networking, one of the biggest deterrents for many people is the thought of social interaction. In-person networking can seem daunting. People often shrink in fear of inadequacy around those that may be smarter or more experienced. They turn into turtles.
Don't. Recognize that everyone else in the room is there to learn and network as well. You're all in this networking boat together. So, maybe just ask a simple question. If anything, you could simply listen to what others have to say.
Can't stop the waves, but you can learn to surf
We have the ability to adapt to our surroundings. Make the most of your networks by adapting mentally to everything that comes at you. Immerse yourself in them, and take a chance to get on your peers' level. Absorb the information and the discussions. Take notes. Apply them to your life. The power of having superior networks will help you to adapt, ride the waves, and find new and creative ways to approach business and life.
Unlock the "aha" moment
I have different groups I meet with a couple of times a year. They might be in finance, or the REIT space or whatever the sector might be. We bounce ideas off of each other and talk about new trends, or what the future might hold for certain markets.
And I always walk away with some type of "aha" moment. Seek out those moments. Think about the ideas of your peers and try to find ways to be two steps ahead. Think about how or if you could apply those thoughts to your daily routines. Eventually you'll find that "ah ha" moment that will make you want to run back to the office and dive into a new plan.
We live in a sharing economy, and with that comes more transparency than ever. People are increasingly more willing to share information and help each other out. That's what makes the power of networks so important in today's society. Don't miss your opportunities.