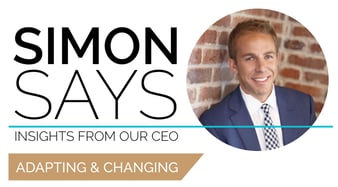 As we enter into the "Fourth Industrial Revolution" we're on the cusp of technological advances that will fundamentally alter how we live and work. While the "Third Industrial Revolution" introduced us to computers and automation, the fourth brings with it artificial intelligence, robotics, the Internet of Things, autonomous vehicles, quantum computing, and nanotechnology.
A new type of Industrial Revolution
While the previous three industrial revolutions were characterized by advances in technology, the fourth is seemingly characterized by the joining of the physical and digital worlds. The fourth has two fundamental differences from previous revolutions:
Operational Coherence - The essential molding of different stages and levels of operation within business and society. Technology has allowed for greater uniformity, efficiency, and productivity from manufacturing, to processing data, to even the personal level.

Competitive Situation - The types of technology, and that rate at which advancements are being made is tightening the market. The adoption of automation, robotics, artificial intelligence and more are creating and threatening more job displacement and greater gaps in the job market. But it also creates new business and economic opportunities, while creating more competition in many sectors.
It appears that professionals today are beginning to feel the competitive and financial pressures of this "Fourth Industrial Revolution". Many workers, and even just individuals on a personal level are beginning to realize they must take some action to adapt. To stay relevant in our current industrial revolution, we have to find ways to use technology to shape our futures.
Make tech adoption a part of your plan
Technological advances are driving personal and business growth in almost every sector. But unfortunately, we often get comfortable in our current situation and we don't see the idea of changing as a priority. We don't actively pursue new ways of thinking or adopt new technology because we tell ourselves "if it ain't broke, don't fix it".
Don't get so wrapped up in immediate concerns that you forget to look ahead. Plan for, and pinpoint the benefits of implementing new technology. Even if you don't personally use the technology, familiarize yourself with it. Better position yourself to adapt to technological changes in society. Having and maintaining a certain skill set NOW isn't enough in itself to stay competitive in the fastest-moving, and most competitive economy we've ever seen.
As we've recently seen, older generations that are less adept at adopting new technological skills, are being squeezed out and out-earned by younger generations that better understand new technology.
Adapt to consumer behavior
The adoption of technology by consumers is shifting how businesses and retailers need to adjust their approach to technology as well. It takes culture and effort to adopt new technology and change in order to keep up with consumers. Many retailers that are struggling today once had a business model that worked, but they didn't react to the changing times. They didn't adapt until they needed to, or until it was too late.
Consumer habits are shifting dramatically, and people now have more choices than ever before. For retailers, leveraging technology to enhance HOW they sell, distribute, and meet overall demands will likely lead to greater success down the road. It's just a matter of whether retailers can effectively manage and stay in stride with technology because if people and businesses don't, they will fail.
Because, while we may think that technology is moving too fast for us to keep up, it is still a controllable force. As Klaus Schwab, Founder and Executive Chairman of the World Economic Forum notes, "All of us are responsible for guiding its evolution, in the decisions we make on a daily basis as citizens, consumers, and investors."