Before the development team is ready to start laying the foundation for your retail build to suit location, you need to first create a solid foundation of the terms by negotiating a beneficial build to suit lease.
In a triple net (NNN) lease, the most common type, the tenant is typically responsible for paying the base rent plus property tax, insurance and maintenance, while the owner covers roof and structural repairs.
>> LEARN ABOUT THE TYPES OF BUILD TO SUIT LEASES
With that said, here are some points to remember when finessing the details of a build to suit lease with your landlord.
Base Rent



The more experienced build to suit-type tenants know better than to fall for a lower base rent without crunching the other numbers that go along with it, so don't make the mistake of underestimating the overall costs.
To break it down, rent is calculated by the rate of return applied to the project costs, along with being dictated by the current market conditions, the building type, and the tenant's credit level.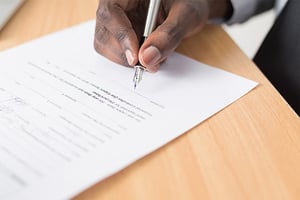 Also, when it comes to a net lease situation, in comparison to a gross lease, remember the amount must be enough of a difference to offset the unpredictable costs such as maintenance, taxes, and insurance in order to make financial sense. Be mindful that your year-to-year property costs will likely vary.
Time Frame



One of the main characteristics of a build to suit to expect is that it will typically be a long-term lease of at least 10 years. If this seems daunting to you, remember that the longer the term, the lower the rental rate.
Also, during this longer lease term, it's common to have renewal option terms at fixed or formula rates. Sometimes, these can be as important a component as the lease itself because it describes the amount of time you can renew for, the required notice period, and at what rate. If it is negotiated to be determined by fair market rate, you'll still need to inquire about how it is defined.
*Tip: When an option is to be determined by fair market rate, it's a best practice measure to add language to obtain a third-party arbitrator should a disagreement arise with the landlord.
Rent Escalations
Another portion of the negotiation process to not overlook are the lease bump clauses that may either be a flat rate, percent rate, or variable increase dependent on the Consumer Price Index (CPI).
The Bureau of Labor Statistics publishes separate CPIs based on location, consumer type, goods and services types, and base index period, so ensure your rent escalator is specified to the appropriate CPI.
---
Choosing the more customized route of a build to suit can provide many advantages. But before breaking ground on your next location, be sure to carefully negotiate the details of your build to suit lease with your developer and keep these guidelines in mind.