With recent news breaking about the first car-free, mixed-use neighborhood to be developed in the country, it's natural to wonder what future parking ratio will actually be necessary for retail tenants.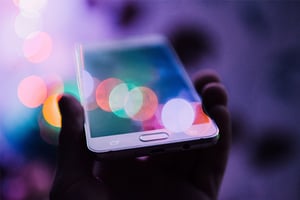 So, with the increase in trends such as Smart Parking Technology, electric scooters, and of course e-commerce, tenants and developers alike should be taking these factors into consideration when it comes to parking.
Although it will vary depending on location, consider these technology-based trends to get an updated idea of what to expect.
Smart Parking Systems
Smart Parking refers to the vehicle parking strategy that incorporates technology to best use the spaces available and make it faster to locate a spot to park. The way it works is by use of Internet of Things (IoT) sensors and real cloud data to determine the nearest parking spot.
What this means for retailers is that customers will gain greater convenience and accessibility, as well as be encouraged to shop longer without the stress of leaving to re-feed a meter.
Worrying about parking when planning a shopping trip is becoming a thing of the past. As this business model expands to more cities, retailers should notice a better, more efficient use of their allotted parking spots.
In fact, the worldwide market for Crowdsourced Smart Parking is expected to reach $370 million in 2024, according to MarketWatch. So, it's safe to say we'll be seeing more of this sustainable approach of automated parking and e-payments soon.
Electric Scooters & Other Mobile Technology
On the note of effective transit mobile apps, electric scooters are becoming more prevalent and contributing to major cities' walkability and bike-ability scores. Across the country, Bird has seen much growth and recently announced raising $275 million in new funding.
Another scooter start-up, Lime, now operates in 120 markets globally and does not show any signs of slowing. The signature lime green-branded company reached over 100 million total rides last September, up from last year's 6 million.
In addition to the mobile-device transportation, so to speak, there are other mobile applications that will likely affect the parking ratio of retail centers.
Take banks for example. Now that consumers have the ability to perform several banking tasks directly on their mobile devices such as deposit checks or make a payment, there is less of a need to go into a bank.
Another example is the capability to order food via phone app and pick it up in the drive-thru, rather than find a parking spot and occupy it over the course of your meal. Starbucks has already taken note of this and strategically opened branches that are "drive-thru only."
E-commerce
No blog post on retail trends would be complete without a mention of the impact of e-commerce. If retailers are housing more inventory in warehouses for competitive shipping purposes, chances are their brand has become more e-commerce-centric. Therefore, the store will essentially require less customer parking.
In fact, Deloitte has even named industrial real estate as rapidly becoming "the new retail." It also forecasts e-commerce sales to grow by 14%-18% year-over-year this holiday season.
Also, with the popularity of click-and-collect rising, where customers order online and then pick up the items in-store, parking spots won't be inhabited for long. Dollar General has adopted the initiative of catering to "digitally engaged consumers," alongside retail giants like Walmart, Best Buy, and Target.
According to a recent Wall Street Journal article, retailers are focusing on extra employee training to refine the process of helping a customer find an item faster. When the employee is more well-versed in anticipating the customers' needs, it will speed up the in-store time — and inevitably, the parking space occupancy time.
---
As you know, the retail parking allowance can be a deal-breaker when picking a site or property. At the same token, however, it is important to consider future technology trends that will inevitably impact your parking needs before finalizing the decision of where to be.