As technology and construction advanced, new developments arose and older buildings were left vacant in the wake of change.
Population ebbs and flows from cities to suburbs and suburbs to cities and back again have created a desire, or more so a need for reuse and redevelopment. Buildings once at the center of bustling activity were abandoned.
However, many of those buildings have found, or may find new life in the coming years. It's estimated that roughly 90 percent of construction activity in the next decade will take place on existing buildings. And there are some crucial reasons for the rise in commercial redevelopment.
What's Old is New Again
In the 90s and early 2000s, the retail industry saw far too much square footage added relative to consumer and population shifts.
Changes in buying power in many U.S. metro areas did not match changes in retail square footage. Development at that time coupled with the economic downturn in the late aughts, caused the U.S. to become "over-retailed".
However, this is where the value of redevelopment comes into play. Utilizing existing, vacant structures (along with reduction in large developments) is helping to keep vacancy rates low, despite a number of retailers shuttering doors.
Cities Love Reuse
Cities have become more favorable to reuse and redevelopment projects as they reduce blight, and revitalize value-diminishing properties.
Many cities have, and are creating adaptive reuse programs or incentives to help promote redevelopment, expedite the approval process, and show more leniency in zoning and code requirements, while also offering cost savings.
For example, cities like Tempe, Arizona have adopted adaptive reuse programs that, amongst other benefits, aim to:
Create a single point of contact

Modify landscape standards

Modify parking standards

Modify lighting standards

Modify mechanical screening standards
Cities also use tax increment financing, or TIF, as a public financing to subsidize redevelopment, infrastructure, and community improvement projects. This incentive refunds or diverts a portion of a businesses' taxes to help finance a project.
In addition to TIF, there is also GPLET, or Government Property Lease Excise Tax. This is another driver for redevelopment as it reduces a project's operating costs by replacing the real property tax with an excise tax.
Reducing Blight, Gaining Favor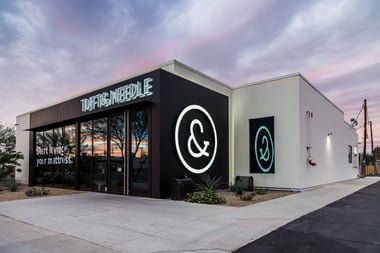 People take pride in the communities they live in and they connect with the history and heritage that those communities contain.
Whether buildings are 60 or 20 years old, people care about comeback stories. Redevelopment plays a tremendous role in those stories by revitalizing and preserving existing structures.
Redevelopment projects breath new life into old, dilapidated buildings and increase property values. Subsequently, there's not as much public scrutiny due to the economic impact these projects provide.
It's through the adaptive reuse of buildings that a community can actively participate in the positive benefits of economic growth.
This isn't to say that redevelopment projects are for everyone. They come with their restrictions and limitations. And new developments can just as significantly have a positive impact on the economic growth of communities. Redevelopment is simply a unique, rapidly growing method of commercial development and community revitalization.