Many believe food delivery partners, such as Amazon Fresh, Postmates, and GrubHub, have become rising threats. So, with the mobile ordering and even delivery-only cloud kitchens now spreading across the U.S. — what does this mean for brick and mortar restaurants?
The Good News

Fortunately, a recent study showed that ⅔ of Americans across all demographics still prefer sitting down in restaurants to enjoy a meal.

However...

While dining out is currently in higher demand than the alternatives, it doesn't mean restaurants should overlook strategizing a hybrid business model for the near future.
Cloud Kitchens
Delivery-Only Concepts
An innovative avenue some restaurants have embarked on is the use of a "cloud kitchen" space. Also referred to as ghost kitchens, shared kitchens, or virtual kitchens, these commercial facilities are built especially for delivery-exclusive restaurants to use.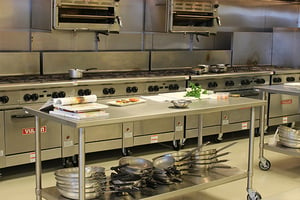 The centralized licensed food production facilities house multiple "virtual restaurant" spaces for rent with the prep tables, hood vents, ovens, sinks, and anything else needed for cooking. They are often located in industrial/warehouse buildings with adequate space for delivery drivers.
Benefits
It may sound like a fancy, high-tech way to describe a take-out only restaurant location at first. But cloud kitchen concepts offer certain benefits such as ease of production, low overhead, and data on food preferences in specific neighborhoods, for instance.
What's especially unique about the technology is it can decipher data for type and demand of food. For example, pizza may be shown to have high popularity at night near college campuses, so operators can expect more of those ingredients to be used then. Innovation is still in its early stages, but smart food purchasing and production software has contributed to decreasing food waste.
Adjusted Business Model
Hybrid Approach
To stay ahead of the curve in this digitally competitive era that restaurants are not fully immune to, some restaurants have formulated a plan to combat it by embracing a cloud kitchen hybrid.
If brick and mortar locations are dedicated to walk-ins and ambiance and cloud kitchens are disciplined in delivery, then the hybrid model leverages the best of both, according to Rajesh Sawhney, Founder of Bombay Sandwich Company, which has built 33 cloud kitchens.
Recent Examples
Users who have already jumped on the "cloud kitchen" train are national chain and single-location restaurants, food entrepreneurs, and food truck owners. Most recently reported, The Halal Guys fast-casual concept has expanded its portfolio to incorporate cloud kitchens and meet consumer demand.
The company elected to go this route after determining it was a cost-effective avenue to capitalize on the growing trend of online food ordering, which is expected to surpass $200 billion in just five years.
Another way brands, such as Chick-fil-A, have stepped into the space is by contracting with a partner, DoorDash, to scale the delivery side and lease a well-located California cloud kitchen. Moreover, Uber co-founder Travis Kalanick has jumped on the bandwagon and recently opened a San Francisco location for the startup, CloudKitchens, which partners with UberEats and other platforms.
---
As evidenced in the past few years, retail developments that once had 40%-50% traditional restaurant users are now filling up to about 70%. The obvious reason is because it's a type of tenant that is ecommerce-proof.
However, restaurant tenants today should consider developing an updated hub-and-spoke business model now to welcome technology, whether it be embracing mobile-ordering services or renting space in a data-driven cloud kitchen to meet changing demand.