It's not difficult to find headlines today reading "Brick-and-Mortar Stores Are Shuttering at a Record Pace" or "Sears, J.C. Penney, Kmart, Macy's: These retailers are closing stores in 2017". A number of retailers are closing up shops in the coming year (2,880 retail locations announced so far); feeling the pressure from e-commerce and a changing retail landscape. So why then are there a number of retailers moving in the opposite direction?
Brands like Dollar General, Walmart, Tractor Supply Company, T.J. Maxx, Ross, and Aldi among others, have all announced plans to open stores this year. So, what are these stores doing that separating them from those that seem to be floundering? What allows them to expand while so many more are fretting over the supposed "retail apocalypse"?
Let's look at a few characteristics that brick and mortar retailers have that are helping them survive and thrive in these tumultuous times. Chances are they possess one of the following traits.
Convenience, Immediacy, and Value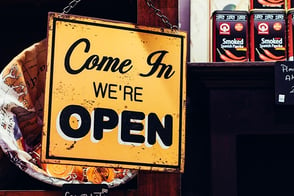 Ultimately, it's value that most consumers seek, in one form or another. When we look at the list of retailers expanding, many of them are discount retailers offering a range of products at cheaper prices. Dollar stores in particular are seeing quite the expansion push, with stores like Dollar General planning on building 1,000 stores in 2017.
And like Dollar General, many of the expanding retailers are competitive because of convenience, immediacy, and value. Consumers can quickly and conveniently get the products they want or need at reasonable prices, without delay. Retailers that provide these elements are essentially what many seem to call "Amazon-proof". They are offering everyday products at low prices that many consumers can't and don't want to ignore. So, despite the convenience that Amazon offers, the value and immediacy that these retailers provide, make them viable and successful in today's market.
Adopting an omni-channel approach
For many retailers to stay relevant in today's market, they have to establish their online presence to complement their physical stores. Consumers want an immersive shopping experience and the lines between online and offline are getting blurred. As a Customer Think article highlights, "Based upon today's consumer behavior of shopping anytime and everywhere, the customers don't separate channels."
That's what separates successful retailers from the rest. They've taken a bold, engaging, evolving omni-channel approach to reaching and appeasing consumers on all fronts. They've worked better than others to truly understand consumer behavior, and provide an enticing, cohesive customer experience.
Making the right real estate deals
We generally think foot traffic, product offerings, prices, consumer behaviors, and many other factors when we think about the success or failure of retailers. But before all of that, comes the real estate deals. It's about finding the right space at that right location and the right price to set yourself up for success.
As a recent Wall Street Journal article notes "The seeds of the industry's current turmoil date back nearly three decades, when retailers, in the throes of a consumer-buying spree and flush with easy money, rushed to open new stores. The land grab wasn't unlike the housing boom that also was under way at that time."
Many retailers invested so much in larger stores. Or they invested in more stores in the wrong locations. They were burdened with real estate deals that left them with investments that ultimately didn't pay off. There wasn't the right mix of show and substance. And now they are dealing with the consequences of increasing real estate prices, decreasing foot traffic and sales, and ultimately decreased profits and margins.
For those retailers that have been successful, they've used the right metrics and analytics to understand their consumers and understand the market. They've partnered with the right people to find the right space at the right price, while also not overstepping their bounds.