Featured in national trade publication, Building Design + Construction on Jan. 2, 2022.
A 700,000-sf power center near Phoenix is one of SimonCRE's developments nationwide.


An avalanche of retail closings and bankruptcies, instigated by the coronavirus pandemic and the growing popularity of online shopping, left tens of thousands of stores vacant across the U.S. But at least one market watcher, Coresight Research, recently projected that, for the first time in five years, the 5,083 store openings that retailers announced in 2021 may have topped the 5,079 announced store closings for that year, the lowest number of closings in a half decade.

No one is arguing that retail is a healthy sector yet. But the patient is showing signs of recovery: in its Outlook for the third quarter of 2021, JLL noted that retail sales were tracking upward and that foot traffic in shopping centers was around 25 percent above 2020 levels (a low bar, admittedly). More significantly, JLL also noted that, through the first half of 2021, 41,000 leases representing 121 million sf had been signed. "For the first time since 2017, retailers will open more stores than they close."

SimonCRE, a national commercial real estate acquisition and development company, is hoping the retail sector can get on a roll again. Among its current developments is Village at Prasada, which the company claims to be the first major power center developed in the western U.S. in over a decade.

Phase 1 of this project, whose construction started last month, will include more than 330,000 sf of retail space. The 250,000-sf

Phase 2 is scheduled to begin construction later this year. The cost of developing Village at Prasada is estimated at $500 million, according to SimonCRE.

As of last month, Village at Prasada had commitments for more than 90 percent of its planned space, and had executed leases with retailers such as TJ Maxx, Costco, HomeGoods, Marshalls, Ulta, and PetSmart. The power center will also include a 61,000-sf entertainment concept with bowling and movies called Fat Cats, and a restaurant row that includes local nano-brewery O.H.S.O, and renowned Mexican restaurant Barrio Queen. (Western Retail Advisors is this project's leasing agent.)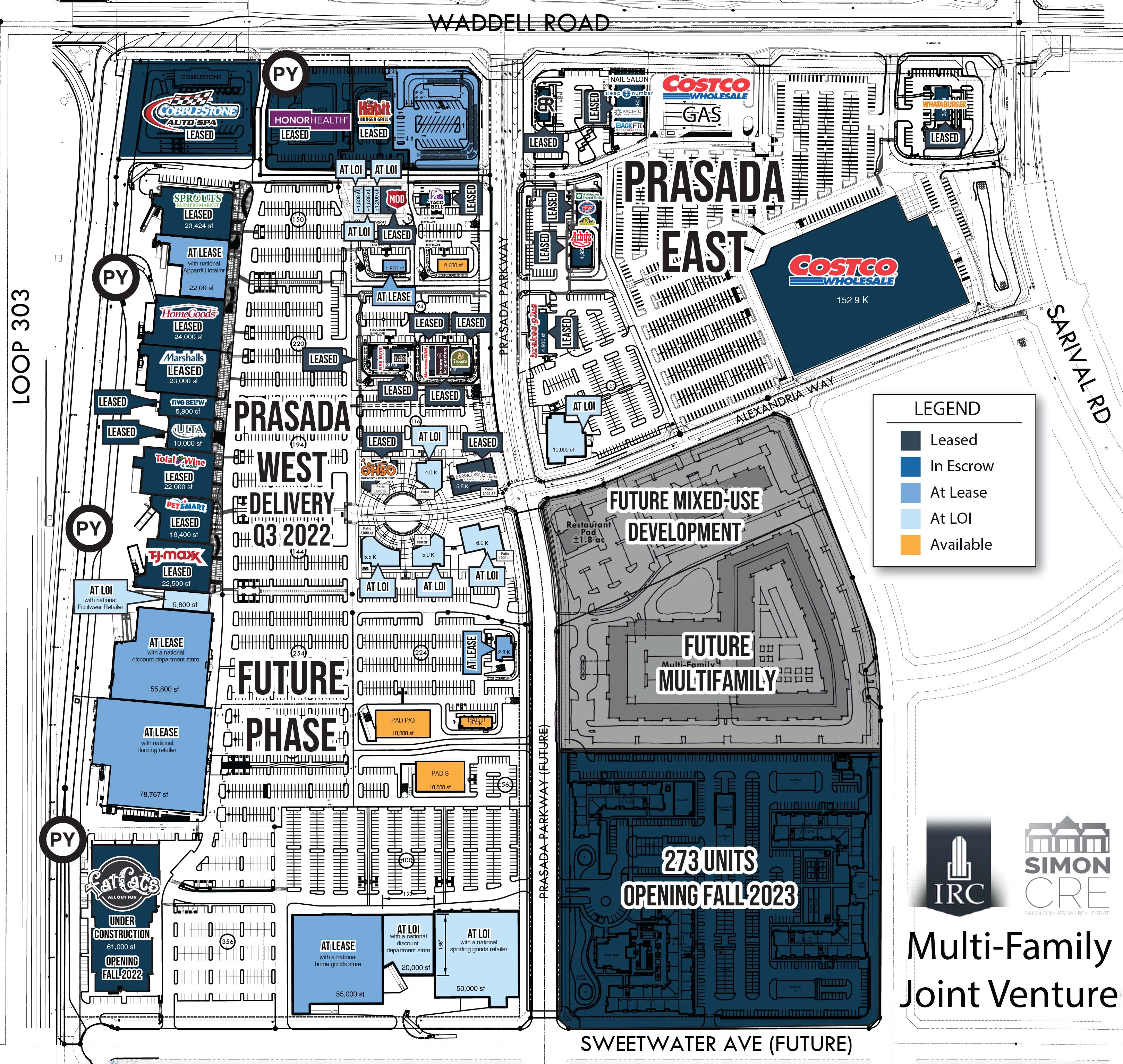 ---
For more information about the development of Village at Prasada, visit VillageAtPrasada.com or on Facebook and Instagram.