ICSC's annual 4 Under 40 honors the next generation of leaders in the marketplaces industry. These four individuals — nominated by their peers, in many cases by more than one — also will take seats on the ICSC board as Next Gen Trustees. Read more about this year's honorees — PGIM Real Estate's Alison Hallberg, Brixmor's Matt Ryan, Edens' Nicole Shiman and SimonCRE's Joshua Simon — below.
Growing up, Joshua Simon was fascinated by construction and all the building blocks of a community-changing development. His excitement propelled him into the real estate business during his freshman year at Arizona State University, while working toward his bachelor's in interdisciplinary studies. Simon was 18, running around the country bidding on projects, building centers and leasing space on behalf of Sandor Development.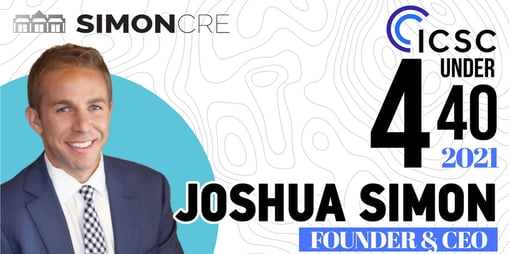 It was only a year later that he attended his first ICSC conference, setting up prospect meetings with retailers for Sandor centers. "Not going to lie, I'm sure industry veterans thought I was pretty 'green,'" said an amused Simon, 36. "But it was a great learning experience and got me out of my comfort zone."
He transitioned to a full-time job at Sandor, working three full days and attending classes the other two. After six years, Simon established his own firm, SimonCRE. It was 2010, and th
e market wasn't great. He started the company in less-than-ideal market conditions and did so without any outside funding.
Today, the Scottsdale, Arizona-based firm employs over 50 people, and Simon anticipates completing 40 projects this year. To date, SimonCRE, which launched a profit-sharing program for employees this year, has completed more than 230 projects across 22 states, to the tune of more than $500 million.
SimonCRE is underway with its biggest project to date, Village at Prasada in Surprise, Arizona, a $230 million ground-up development, the first power center built on the West Coast in over a decade, he said. Village at Prasada will include 700,000 square feet of retail. It will be completed in 2023 or 2024. Simon has already achieved commitments for 90% of the retail space. "People were saying that retail was dead during COVID," Simon said. "This amount of commitment proves that retail is flourishing."
ICSC has been an important organization to Simon, he said, as its events "have been such a helpful way to build and learn over the years and they have allowed [me] to create life-long friendships," he said
. He served as a past chair of the ICSC Arizona Government Relations Committee, and at the 2019 ICSC OAC Summit in Austin, Texas, he led the discussion Real Time with Retailers. Simon remains active in government relations through ICSC, participates in the ICSC Next Gen Leadership Network and gives back to subsequent generations through the ICSC Foundation Mentorship Program. "He carries the torch for his team and is committed to developing projects
that benefit clients and the communities they serve," said Vestar chairman and CEO Rick Kuhle, a mentor to Simon.
On the personal front, Simon and his wife Brittany tied the knot in June 2020 and held their delayed reception last July. Many of the attendees were friends Simon made through ICSC, including a groomsman he met through ICSC Next Generation events.
Written by ICSC on Dec. 10, 2021 (Original article)