A SimonCRE retail development to come soon in Laveen Village, AZ has secured a long-term lease for a new Denny's restaurant location.
NAI Horizon negotiated the build-to-suit lease for the well-located property at Baseline Road and 51st Avenue, east of The Shoppes at Rogers Ranch.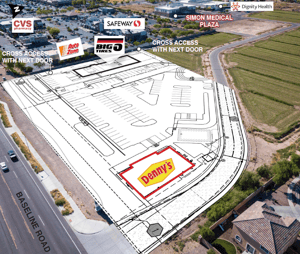 The NAI Horizon retail properties team of Senior Vice Presidents Chris Gerow, Shelby Tworek, Gabe Ortega and Associate Patrick Anthon represented the tenant, DFK Holdings, LLC, and SAS Restaurants of Phoenix, in the lease totaling $3.712 million.
"This is a strategic location for Denny's, as we have been searching in the area for quite some time," Gerow said.
The ±4,500-square-foot-building is across the street from Laveen Village Marketplace, which is anchored by The Home Depot and a Fry's supermarket.
Other tenants in the area include Safeway, Dollar Tree, Petco, Verizon, Pizza Hut, and Leslie's Poolmart.
The landlord entity is SimonCRE BMM II, LLC of Scottsdale.