Inevitably, the risk involved during a single-tenant build to suit development's project life cycle is at its highest during its preliminary due diligence period. As the name implies, the investigation of more than 100 items for the potential site should be conducted diligently and treated with the utmost importance.
Feel free to bookmark this convenient list for a quality assurance measure that protects against being blindsided in later stages when the deposit is no longer refundable.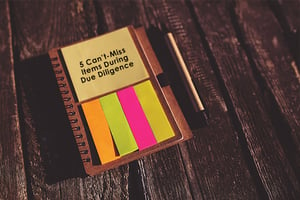 1. Check early on its current municipality building code of ordinances.
After examining the title and exceptions, the natural next steps should involve checking the site's current municipality codes to confirm feasibility with your vision. Needless to say, no two city building regulations are the same. If you think you're already familiar with one because you've dealt within their city limits before, chances are there are changes you may not be aware of that can cause costly mistakes.

While you're at it, it would also be a good idea to reach out for confirmation on any zoning compliance certificates or zoning approvals, variances, or pending applications currently in place, if applicable.
2. Verify access to the site and the visibility end result.



This item should come early in the due diligence efforts because it could result in dropping the project before too much money is spent. This is essentially a top priority because it'll provide a clear understanding of what the visibility will actually be once the setbacks, landscaping, signage, and anything else required are in place.
*Bonus tip: Check again with the municipality to ensure the potential positioning of the building on the site would still be up to code.
3. Find out if your lender will approve third-party vendor reports.



Additionally, this is a proactive effort to take before spending the money on obtaining the necessary reports. Some examples include: the Site Investigation Report (SIR), Property Condition Assessment, Phase I Environmental Reports, and Geotechnical Studies. If you have a developer in your corner, then this step can be skipped as the responsibility would be in their hands instead.
4. Figure out the logistics of getting utilities to the site.



On top of ensuring your project is code-compliant and on the track to obtain permits, another requirement to remember can also become an unexpected cost: utilities. Under no circumstances, should you overlook identifying the size and location of the nearest sewer, gas, water and power supplies.
To ensure the highest level of investigation, consider hiring a preferred developer to uncover development issues such as inadequate utility capacity, local requirement changes, or environmental problems.
5. Keep all correspondence with the seller in writing.



You've heard the saying, "always get it in writing," and this case is no different. In an industry that is infamous for trusting "handshake deals," don't make the mistake of not having a paper trail. Get in the habit of writing up-to-date email threads with the seller after an important phone call or meeting, or at least recording conversations with their consent, just to have a mutual record.
---
Above all, remember: More due diligence = less risk.
Although the due diligence process may seem tedious at times, and even need to be extended, use these five pointers to leave no stone unturned within this major part of the project's overall success.