Although taking the commercial redevelopment route can produce many advantages, you need to determine whether it's the right scenario first. The wrong redevelopment project can lead you down a slope to nothing but a money pit.
One major way to be proactive in ascertaining whether a project will end up as a gold mine or just a dark hole is to uncover all site conditions.
How? Here are five main measures you should take.
Order a topographical A.L.T.A. survey
This type of survey outlines the existing features, property lines, and contour lines of the lay of the land. It also marks all easements, restrictions and recorded items related to the title of a property.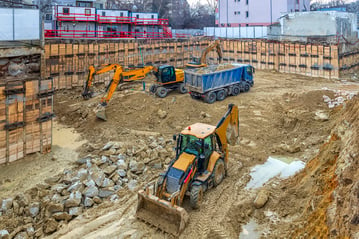 This is a critical first step because you need to know exactly where and what you can or can't redevelop on the property. It should meet the requirements of the local zoning authorities, but also show the best way the land should be developed.
Tip: This survey should especially be ordered when land developed for one use is going to be being used for another purpose.
You may also hear these being referred to as project record drawings, but either way, these documents allow you to compare and contrast between the initial design and the final specifications.
So, don't overlook these as they provide a blueprint of all of the project's changes that have been made. Some examples of changes would be modifications, shop drawing and design changes, field changes, etc.
Tip: Ask the jurisdiction for planning and permit records, as well as approvals to review the full history of the property.
Run a thorough geotechnical analysis
The goal of the geotechnical investigation is to study the property's soil earthworks and foundation, and expose any repairs needed due to damage caused by subsurface conditions.
To dig deeper, this soil study examines the footprint of the building; land area on which the building will be located; land slope; land and building closeness to water (groundwater, lake, stream, river); and geographical location.
Tip: Even if there are no signs of soil related distress, but it is located in a geologic hazard prone area with a history of earthquakes, sinkholes, liquefaction, landslides, volcanoes, etc., or the geotechnical report is more than five years old — your lender will likely want to request a geotechnical report.
Order environmental assessments
The Phase I environmental study is not only important for ground up development, but also redevelopment. It consists of performing a visual and historical inspection to identify any potential current or past environmental issues.
The findings in this report could even have the potential to limit your intended use. For more evidence as to why ESAs are crucial to order before getting too deep into your project, check out this blog post.
Tip: Remember another benefit of an ESA is that it will keep you up-to-date on the latest regulations that can affect the site down the line.
Partner with an experienced developer
Hiring an experienced commercial real estate developer could help guard against being blindsided and even alleviate the risk should any surprises come up during your redevelopment.
Aside from the worst-case scenario reasons, partnering with one that has a redevelopment-specific skill set will also ensure valuable connections, such as with proficient site civil and surveying consultants.
Tip: Ask yourself these specific questions to help reach a decision as to whether partnering with a developer would be beneficial in your case.
---
While you always try to be as prepared as possible, some issues could still come up as a surprise in your redevelopment project. The points above, however, will help give you as much control as possible when it comes to avoiding hidden site conditions beforehand.
Here are some other hidden costs to watch out for during the redevelopment process.
---