And just like that – one decade down, many more to go.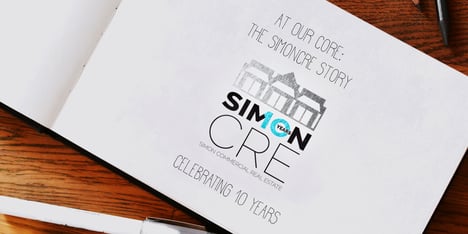 In reflecting on 10 years in business, we'd like to think what has set us apart is our strong discipline and focus on our core values. We manifest these principles into every aspect of our work because our core values are not just buzzwords.
In fact, all eight tenets had been mixed into the bricks that built our beginnings and continue to provide the structure and support today.
Here is our story that came to be as a result.
Starting a business during an economic recession is likely regarded as exceptionally risky; however, if you're Joshua Simon, Founder and CEO of SimonCRE, you see that challenge as an opportunity to build an even stronger foundation. Ten years ago, the national commercial real estate developer and owner, SimonCRE was established and took off running.
Be First. Be Fast. Persist.
After having already spent a number of years in the real estate game, Simon had been itching to do more. And so he took that leap of faith. Simon truly was bootstrapping to get the company off the ground without any significant savings. Additionally, he had started SimonCRE without any partners and then brought on one employee to help.
Do More. Be More.
In no time, the company had outgrown its first couple of offices and that growth has carried on to today. In fact, in the past two years alone, it has increased its number of employees by over 50%! Our client roster also followed suit and has expanded to more than 100 national and local tenants.
Dream Up. Team Up.
SimonCRE's goal continues to be redefining the commercial real estate development industry and leaving a lasting impact on communities. The majority of our clients choose us as a trusted preferred developer and enlist us again for multiple projects in other markets.
Be Helpful. Build Trust.
Although we have completed more than 185 projects to date – and counting, it's not just the numbers that speak volumes to us. We are humbled to have heard from clients that they continue to choose us not only for our ability to execute quickly, but also our honesty and transparency.
Be Direct. Show Respect.
Naturally, with the significant company growth, our acquisitions team has also become more robust as it boasts a diverse portfolio of well-positioned real estate, value-add, net lease, and multi-tenant shop space. As for dispositions, SimonCRE had roughly $74.5 million in total investment sales for 2019 alone.
Say It. Own It.
On the development side, SimonCRE's main product type has predominantly been single-tenant retail build to suit properties. Now, we have adapted our business model to accommodate our expansion and current demands of the market. SimonCRE has been featured in the news for multi-tenant retail centers, medical office buildings, and even an RV storage facility. When it comes to making updates, we believe in investing in technology that fosters innovation and efficiency as a catalyst for business growth.
Be Flexible. Embrace Change.
To date, SimonCRE has completed over 185 projects across 22 states, totaling more than $378 million in value to date. Planned for 2020 alone, the company has 40+ projects, totaling approximately $200 million in the construction pipeline.
Be Inspired. Be Proud.