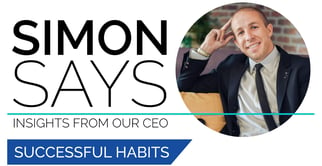 Having a mentor, or mentors is one of the most important things you can do to facilitate your success. All of the things I've talked about previously, the practicing, the constantly improving, and staying focused, can be attributed to having great mentors in your life.
The Impact of Mentors
I've found that finding the right people who are willing to teach and guide you through your career will make all of the difference in the world. From my introduction into commercial real estate development to now, I've come across a number of individuals who have helped guide my career in one form or another.
In particular, mentors have helped me, and can help you:
For most of my career, our current in-house attorney, Joe Acker, is someone who's provided me guidance and answers to my many, many questions. We started working together when I was just getting into the world of commercial real estate development. I would constantly stop in his office and get his feedback on how to handle this situation and that. For years, and even to this day, he's been an important teacher as I went from just getting my feet wet in the industry, to diving right in.
One of the biggest takeaways one can take from mentors, is a blueprint for success. For me, I've recently found a mentor who might be considered somewhat of a competitor. Despite that, or maybe even because of that, I see a lot to learn from this individual. I view this person as successful, and I see that there was real knowledge to be gained by understanding how they built their business.
Achieve more/challenge you
Coupled with providing a model for success, mentors also offer the motivation and inspiration to achieve more. In particular, someone I know from the insurance industry has really changed the way I look at things from a business perspective. He got me thinking about a much bigger picture. He helped me focus on new opportunities to learn and grow.
Additionally, I've discovered a mentor who's in the apartment development industry. Whenever we go to lunch, I leave somewhat mentally exhausted because he's brilliant, and he challenges everything I do. It helps push me to new limits.
Find the right mentor(s)
In many cases, finding people who are willing to be a mentor, or who you look up to as a mentor is much easier than you think. You just have to look in the right place.
The natural evolution of a career for someone who has been very successful, is that they find success and they look for the next challenge or opportunity. Often times, that means giving back. It means sharing their knowledge and their secrets to success.
You also have to remember that there won't be one ideal mentor to provide guidance on all aspects of life. That's why I find a handful of people that can all act as mentors in different segments of business and life.
Ask hundreds of questions
Anytime you're in the position of mentee, one of the most valuable things you can do is simply ask questions. Ask a lot of them.
A number of years ago I had former co-worker who was considered an expert in restaurants. I used to go sit in his office and pick his brain forever. It got to the point that he was probably pretty annoyed with me. But I looked to him as a mentor because he taught me so much about the business.
Don't ever be afraid to be the "annoying" person that asks 100 questions.
Stay 100% Committed
On top of finding the right people and asking a lot of questions, comes the most important thing about all of these relationships: staying committed. YOU have to be 100% committed. YOU have to take the reins. YOU need the drive and determination to learn and to grow. If they're people you have a close relationship with, then follow up with them, spend time with them. If they're people who are more of a mentor from a distance then spend the time studying them and their successes. Ultimately, it's up to you to make the most out of every mentor relationship and to stay committed to learning.
Having been granted my first internship at age 18, I understand the value of mentorship and I took advantage of the opportunity. I was relentless, I was committed, and I found the right people to guide me in a variety of different aspects. I don't think I'd be where I'm at today without it.
That's why it's important for me to create an internship program that mentors young adults and gives them a hands-on learning experience.
Through all of it, whether in business or in life, it's important to remember that you can't go it alone. If you really want to be successful, you need help from others.