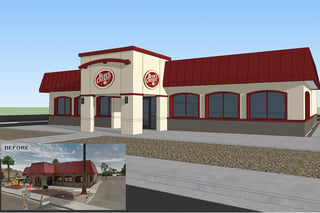 Scottsdale-based SimonCRE has bought a Scottsdale property for almost $1.5 million with plans to open a 4,200-square-foot Texas-based chicken restaurant.
Orion Investment Real Estate represented SimonCRE in leasing the building to tenant Bush's Chicken, an Austin-based quick-service restaurant.
SimonCRE is planning major renovations for Bush's Chicken's first Arizona location at 7111 E. Thomas Road, off Thomas and Scottsdale roads, formerly a Filiberto's Mexican Food, which is expected to open this summer.
"This is a great redevelopment opportunity in a very active Scottsdale trade area," said Joshua Simon, president of SimonCRE. "And we're excited to add a fresh, new tenant like Bush's Chicken to the list of exciting restaurants and retailers in the area."
SimonCRE was represented by Tim Gunnink and Andrew Harrison at Orion Investment Real Estate. The seller was represented by Astria Realty. Tim Gunnink and Michael Achtman at Orion and SimonCRE secured the lease to Bush's Chicken. Lance Umble at Phoenix Commercial Advisors represented the tenant.
Featured in Phoenix Business Journal (Original article)