Location

florence, AZ

Size

±1

2,000 SF

Type

Single-Tenant medical office

Service

Build To Suit

Year Completed

2017

Year Sold

2017
When a tenant needed a new home, and had either been burned by over-promising and under-delivering developers or realized self-development became too expensive, SimonCRE stepped in and took extra care and persistence.
The medical center tenant was currently operating in a former masonic lodge in Florence, AZ that was constructed in 1930 and abandoned in 2008. Needless to say, it was not up to today's Americans with Disabilities Act (ADA) accessibility standards and was too small to accommodate the community adequately.
The Challenge
The site for a highly needed medical build to suit in Arizona was compromised when it was discovered that it had too low of a main water flow and would never meet the municipality's fire code requirements without remediation.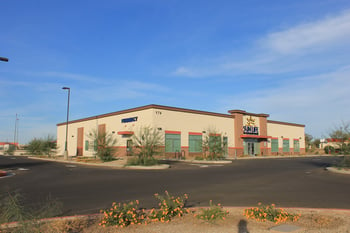 The main dilemma would be delivering a top-notch facility, while staying on budget so that the rent would be affordable for the tenant that serves low-income patients.
The Solution
To keep the proposed medical center project on schedule and within budget, SimonCRE value-engineered the building and applied retail cost-saving strategies to the medical project as to not sacrifice any quality.
Hydrology and civil engineers worked with the city engineer on multiple real-world flow tests and water flow computer modeling technology to prove the design was viable. Skillfully, the project timeline was kept down to about three months for design and another three months for construction to deliver it with urgency.
The Result
What could have easily led to the rental rate skyrocketing for the tenant was evaded by a strategic win-win situation crafted by SimonCRE. The developer/owner was able to create a market rent for a turnkey build to suit medical project. The overall health center was a success not only for the future tenant, but also for the community it serves for years to come.
"Bridging the gap among multiple parties and integrating creative solutions to deliver a quality medical center, while keeping costs within budget for the tenant was our main mission in helping the center accomplish its goal of providing the best care possible," said Joshua Simon, Chief Executive Officer and Founder of SimonCRE.