Location

Phoenix, AZ

Size

±

2,532 SF / 7,500 SF

Type

Existing Building / Single-Tenant Retail

Service

Acquisition / Build To Suit

Year Completed

-

Year Sold

-
As one might expect, developing property near the Valley Metro Light Rail in downtown Phoenix does not come without a higher cost. Developing in an urban district is also more costly due to stricter regulations and higher density issues. But, SimonCRE had a dynamic plan and vision in mind when it acquired a project at 12th and Van Buren streets.
Because the proposed site is located within 2,000 feet of a light rail stop, the project falls under Transit Overlay District (TOD) design standards. These standards include increased storefront glass, more vegetative landscape, larger sidewalks, and bike lane/bus pad improvements. So, SimonCRE got to work on learning the regulations.
The Challenge
The ±2,532-square-foot existing building closest to the corner of 12th and Van Buren streets was an old building that had been partially burned down in a fire. Calling it an "eyesore" was an understatement.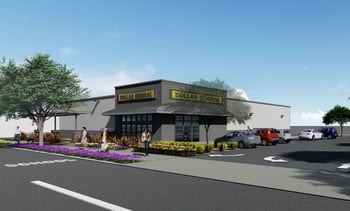 The project needed to be redeveloped the "right" way, in accordance with the City of Phoenix. There were several environmental concerns to address, such as adding a vapor barrier due to past contamination from an off-site source, along with asbestos remediation from the old building to demolition.
When the ±7,500-square-foot Dollar General build to suit was nearing completion, it was discovered that the racking and shelves would be at window-level, obstructing the view of the interior. Furthermore, the city required a maximum of 25% transparency windows due to the TOD requirements, so SimonCRE couldn't fix the problem with spandrel or non-transparent glass.
The Solution
To be compliant, SimonCRE had to reconfigure the future Dollar General building on a smaller lot. Since it is a pre-engineered metal building and cannot easily have storefront windows added without structural concerns, SimonCRE had to creatively account for adding more windows.
To solve the issue of the shelving being exposed at window-level, SimonCRE worked strategically with the city, through its own letter of the law ordinance, that it could have clear windows but add black-out shades. This would accomplish the city's goal for pedestrian walkability but also block seeing the backs of the shelves and refrigerator units that Dollar General wanted to screen.
The Result
In the end, being able to draw up and deliver creative solutions to bring the buildings up to code, while still satisfying the tenant's store operation needs proved that SimonCRE was the right developer for the job.
Not to mention, SimonCRE was the first to develop a ground up one-story retail store within this TOD. When dealing with development in an urban district, it takes an expert developer to get the job done.