Location

GLENDALE, AZ

Size

±

10,733 SF

Type

MULTI-TENANT RETAIL

Service

GROUND UP DEVELOPMENT

Year Completed

2020

Year Sold

-
Behind the breaking news of the first Lou Malnati's Pizzeria coming to the West Valley of Arizona were several bumps in the road. Nonetheless, SimonCRE pulled through and excelled at the newsworthy ground up development site in Glendale, AZ.
Upon the land acquisition of ±1.4 acres at the signalized intersection of 75th Avenue and Rose Garden Lane, SimonCRE established plans to develop a 10,733-SF multi-tenant center that includes a Dunkin', Lou Malnati's, Matt's Big Breakfast, F45 Training, and more available space.
The Challenge
The acquired land was previously owned by the adjacent Dream City Church, so its congregation and surrounding residents were quite vocal in ensuring there would be minimal noise and light disturbance to the neighborhood. Previous development in the area had been challenged.
Also, like many active and thriving neighborhoods, there was pressure to find a solid selection of retail shop users and restaurants that would complement and cater to their existing congregation. However, that would require more abundant parking.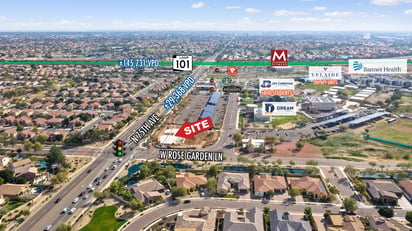 The Solution
SimonCRE recognized there was a stormwater retention area along the church campus that was being underutilized. So, the actions included creative civil engineering and going through the City of Glendale with a request to rezone to commercial use. Additionally, a major site plan/general plan amendment to the Planned Area Development (PAD) was submitted. But, SimonCRE didn't stop there.
The developer worked with the church further to create a revenue-generator off the sale, and in turn, accomplish cross-parking with the church. The efforts of the project also created a tax parcel and city sales tax revenue generator for the City of Glendale. Finally, SimonCRE addressed any community concerns when constructing the development.
The Result
Working with all the stakeholders involved, including Dream City Church, ensured everyone is satisfied and led to an all-around beautiful project for the neighborhood. Construction had commenced in the Fall of 2019 for the drive-thru Dunkin', delivery- and takeout-only Lou Malnati's, Matt's Big Breakfast, and future tenants soon to come.
Near the site will be a 75,000-square-foot Banner Health medical office complex, just off the Loop 101.
The company's CEO, Marc Malnati, said in a Phoenix Business Journal article, "Since our first location opened in Arizona, we've been welcomed with open arms and are so grateful to our loyal fan base. Our team is excited to head west within the Valley and make a home in the vibrant and thriving city of Glendale."