Location

LAVEEN VILLAGE, AZ

Size

±

32,000 SF

Type

MEDICAL OFFICE PLAZA

Service

GROUND UP DEVELOPMENT

Year Completed

2020

Year Sold

-
Situated just south of the only full-service hospital within an eight-mile radius, Dignity Health Arizona General Hospital, SimonCRE constructed an ideally located new medical office building on the campus in Laveen Village, AZ.
SimonCRE purchased 2.5 acres of land just north of the northeast corner of 51st Avenue and Baseline Road in May 2019. The 32,000-square-foot multi-tenant building, named the Simon Medical Plaza, proved to be exactly what the community needed.
The Challenge
The property's former out-of-state developer had started some design and entitlement in 2013 but was unable to make the site work financially. So, SimonCRE was brought in by the seller in 2018 to give it a run.
SimonCRE saw tremendous value with the new Loop 202 freeway being within two miles of the site, along with the need for medical property in the area.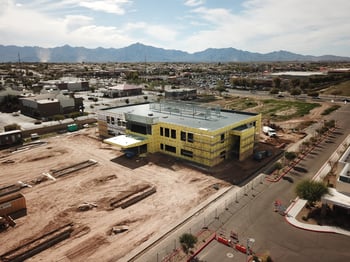 The Solution
SimonCRE value-engineered the building core to create maximum efficiencies and rentable square footage. Furthermore, local brokerage contacts were utilized to pre-lease the building to 50% before the building even had a permit.
The Result
Building the Class B two-story building in the southwest Valley marked the 150th project and second medical property of SimonCRE's.
"Healthcare continues to play a greater role in our economy and people's way of life, which is why we're excited to bring this development to Laveen's growing community," said Joshua Simon, Chief Executive Officer and Founder of SimonCRE.