Location

SAN TAN VALLEY, AZ

Size

±13.50 Ac

TOTAL

Type

MULTI-PAD RETAIL CENTER

Service

ACQUISITION & GROUND UP DEVELOPMENT

Year Purchased

2021

Year Sold

-
Located about an hour southeast of Phoenix, San Tan Valley is one of the fastest growing communities in the second fastest growing county in the country, according to SanTanValley.com. San Tan Valley's upcoming development activity caught SimonCRE's attention immediately.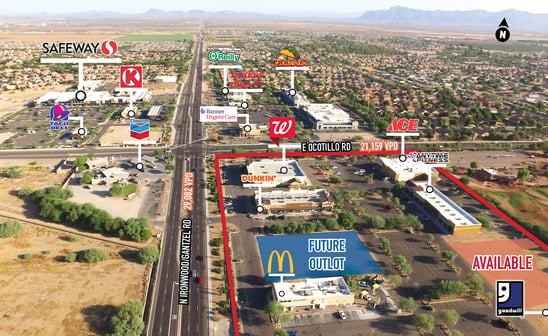 In January 2021, SimonCRE acquired a multi-pad center at the southeast corner of Ocotillo and Ironwood roads, diagonal from a Safeway location that opened in late 2019 and brought a bustling amount of traffic. John Appelbe of Appelbe Commercial Real Estate represented the Seller, Relo Queen Creek, LLC, in the purchase of the center for $14.4 million.

That corner features a wide array of neighboring national and regional retailers including Banner Urgent Care, O'Reilly Auto Parts, Brakes Plus, Taco Bell, and Filiberto's. Other attractive upcoming developments include the proposed Ironwood District, which will feature anchor and shop space just south of SimonCRE's site. Furthermore, new housing developments Cambria at Ocotillo and Ironwood Crossing are planned to bring about 1,100 and over 2,350 single-family units, respectively.
The Challenge
The decision to purchase the site was the easy part. Now that SimonCRE had its work cut for it, it was time to execute the plans for what would be an estimated $20-million project at build out. The 13.50-acre site features existing buildings including a Walgreens, Ace Hardware, McDonald's, Big O Tires, Anytime Fitness, two multi-tenant buildings, and three pads available for ground up development. But what would that new development entail?

For one pad, SimonCRE had to work diligently and swiftly to establish plans to develop a ground up 22,000-square-foot building for Goodwill. The main challenge to overcome was being up against the tight deadline of getting Goodwill build to suit plans approved in order to deliver the new store by Q4 2021.

Another hurdle to note was having to take into account the multiple tenants' lease restrictions. For example, there was language preventing SimonCRE from bringing in certain tenants such as a discount retailer. However, it didn't become an issue as SimonCRE was able to call on other qualified tenants to lease instead.
The Solution
On the development side, to meet that tight delivery deadline for the new Goodwill building, SimonCRE had worked closely and proactively with Pinal County for the entitlements and final plat approval. The center underwent a plat subdivision in order to maximize its overall potential value.

Next to the Goodwill, a new ±20,000-square-foot ground up development is planned to house a pet store as a new anchor. As for the remaining available pad, SimonCRE was able to generate a new income stream via a ground lease by leveraging its relationships to bring in an outparcel user. As a result, this has brought this center up to nearly 100% occupancy within a short amount of time.
The Result
In under a year, SimonCRE took a multi-pad center at a promising intersection in San Tan Valley and filled in the blanks. As soon as it was acquired, SimonCRE entitled the pending development pads and got to work on a Goodwill build to suit that was needed in that area. The crossing of Ocotillo and Ironwood roads has become one of the fastest growing retail intersections in San Tan Valley.
"We have been adding more larger scale projects to our portfolio, such as this one, and are thrilled for the big changes we can further contribute to this understated area," said Joshua Simon, Founder and CEO of SimonCRE.
---
This acquisition and development project has been featured in Phoenix Business Journal, Rose Law Group Reporter, Daily Independent, and more news outlets. For property updates, please visit the property page.