When setting off to develop a new build to suit location, you'll quickly find that there are many moving pieces to the process before you can be up and running.
In this blog post, we discuss the questions to ask before hiring your landscape architect who will design the vegetation layout, plant types, irrigation plan, and work with the city and other design professionals to obtain the building permit.
[Related blog post: The Steps to Hiring an Architect]
The landscape surrounding your property can be the difference between a functional, aesthetically pleasing exterior space and one that lacks cohesiveness.
So, when hiring your landscape architect, ask the following questions to dig deeper.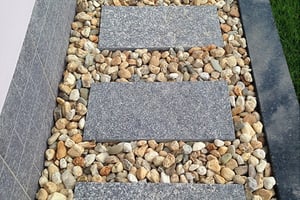 Do you have expertise in this land use type and in this area of the country?
The goal in this initial question is to first determine the landscape architect's climate and plant knowledge for the particular area in which your site is located.
While the amount of years in the business will proves withstanding the test of time, perhaps a more important barometer to measure is their specific expertise in the following areas:
Plant types
Not only what the native plants look like, but also which of the plants will work well together
Ground coverings
Such as crushed granite/rock or sod/grass
Irrigation system design
In both desert-like climates and ones that receive a high amount of precipitation per year
Local/regional climates
The landscape should be selected as one with a comparable native climate
Construction documents & specifications
So the general contractor knows exactly what is needed for construction
Knowledge of the permitting process
Check experience with the local jurisdiction of the site
How do you balance cost-effectiveness with meeting my design requirements?
Perhaps the question that carries the most weight is related to how the contractor will treat your budget. You want the landscape architect to put your needs above an opportunity to up-sell because the relationship is more valuable.
Also, you want to hire the one that will meet your company's unique needs, even if it causes more work on their end.
For example, did you know some drive-thru coffee shops ban certain types of flowers from being planted near the drive-thru window to prevent bees from deterring customers?
So, look for the contractor that will pay careful attention to the details.
Can you please clarify and provide proof of insurance for your work?



This question serves as a qualifying one to essentially weed out any non-viable options. Look for answers that encompass both a general business insurance policy along with worker's compensation coverage.
Some legal liabilities associated with your commercial landscape would be tripping hazards, inadequate exterior lighting, overgrown trees/shrubs, flooding/draining issues, fire hazards, and icy conditions. So, you need to ensure your protection.
Then, once you've narrowed down the applicant, be sure to fact check with a simple phone call to the insurance company to verify the dates of active coverage.
*BONUS* Are you recommended by any commercial developers?
If you are debating partnering with a preferred developer for your build to suit project, an advantage would be that they would come equipped with a list of preferred vendors they've had a positive experience with over the years. Choosing this route would also alleviate much of the hiring process stress as well.
---
Commercial landscape architects can make properties look 10 times better just by designing efficient landscaping that complements your brand. So, before you hire, be sure to inquire about these points first.
If you'd like to take the commercial real estate developer route to streamline the entire process, check out the 6 Questions to Ask Your Commercial Real Estate Developer before locking in your partner.