Developing a commercial real estate building from start to finish requires much strategic planning, especially when it comes to hiring the right key players to get the job done. There is a number of contractors you will need to hire, including various architects and engineers, to ensure the success of the development plans and processes.
But how do you pick the right ones? Or, should you weigh out the option of hiring a professional development company instead to reduce overall risk and potential cost overruns?
If you are looking to get an idea of what it would entail to take on the challenge on your own, here are some pointers to get you started off the right foot.
HIRING A GENERAL CONTRACTOR
If you're not sure whether you want to fully commit to developing without a preferred developer, perhaps hiring a general contractor could be an ideal solution for you. Unless you have a specific architect in mind, for example, hire the GC first for a professional approach on hiring the subcontractors.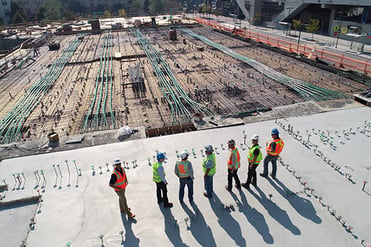 But of course, hiring the GC is a big decision. There are many factors to be considered during this process. Regardless of what type of project you are undergoing, it's important to have the right company to do the job.
The first step in selecting a commercial GC for your project is identifying what you need in terms of construction or renovation. Some key questions to ask include: What are your goals for the project? What is your budget for the project? What is the desired schedule for the project?
In finding the right contractor, it's important to look at some noteworthy criteria:
Verify your contractor's registration, bond, insurance & infractions
Check whether they have the qualified license and request insurance verification directly from the insurance company. Be sure to compare the coverages between contractors as it can vary tremendously.
Contractor's license bonds are established as based upon the volume of work within the state and the classification contemplated by the licensee. A company that is licensed to offer surety products in a specific state does not mean that the company actually does. You will need to contact the business directly for additional information as to what services they offer.
Check contractor histories, credentials & reviews
Look into the company, their qualifier name (the license holder), verify it exists and is active. Is all their documentation up to date? What does their history look like? Any complaints? Also, check with the local Better Business Bureau for ratings, complaints and how they resolved those complaints.
Protect yourself. Do your due diligence. States offer resources, such as Arizona's Contractor Search and Building Confidence Program.
Get answers about costs
How a GC arrives at a bottom-line fee requires asking a lot of questions. All costs should be illustrated in a divisional itemization with as much detail as may be required to make accurate comparisons.
It isn't uncommon for contractors to give an "estimate" of how much they anticipate the work will cost. The quoted cost should be the exact amount that a particular task will cost, without much "wiggle room." There should be no such thing as charging too much if a price has been agreed upon.
Learn about the team & potential subcontractors
It's important to know who will supervise your project, who are your points of contact, and who the subs will likely be. Since subs are under the direct supervision of the GC on any project, it's imperative that they work as a team. Both have to be a good fit.
Contractors and construction businesses often depend on subcontractors to complete specialized tasks or work on the job. There are upsides for GCs using subs: since subcontractors are usually only skilled in one or two specific jobs, they have a much higher quality of work than someone who is a jack-of-all-trades; GCs can focus on other important tasks while subs focus on the job at hand.
If a sub you hire causes damage to a client's commercial project, you could be held liable for their mistake. Require subs to have their own insurance coverage.
Nail down timing & execution
Timing and execution are obviously crucial for all involved parties. Ask for a timeline and inquire about other projects that may be happening simultaneously. A qualified commercial GC will keep things organized and moving smoothly.
Since they oversee the entire job, they make sure all of the materials are in place as they are needed and will always keep you up to date on the progress of the project. The contractor is in charge of all of the paperwork and scheduling, making sure each part of the project is completed on time and as efficiently as possible.
---
The goal for any commercial construction project is to find a reputable company that provides quality work and in the defined timeline. Remember, the company you choose for your commercial GC will be your business partner, so choose the company that is a fit for your project and has the qualities you're looking for. Doing so starts with knowing what criteria are important and the right questions to ask.
---
HIRING AN ARCHITECT
After the GC (if you decide to go that route), another important hire to start looking into is the architect. Architects offer a comprehensive service that is broken into several phases. They can guide you through the stages of planning, designing, and constructing a project.
With the wrong decision, you risk losing your building's intent and could face design issues once construction begins.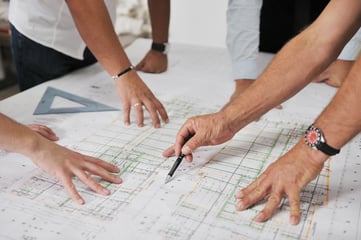 While the process to find an architect can indeed be incredibly time consuming, it's essential to making your project a success. In general, the shared goal of the owner and architect is to make sure that the project meets the design intent as discussed in concept design.
All projects are unique and the process of hiring an architect varies case by case and project by project.
When you do hire an architect, think about the following steps to help find one that fits your needs.
Defining the Project
You'll first want to ask questions such as: What are the project objectives? What is the project budget and construction budget? What's the project schedule?
Consider the specifics and complexity of your project and whether it requires general or technical knowledge. This will help you determine which type of firm is best suited to your project.
Reviewing the Qualifications
Does the firm or architect have the necessary certifications? Does their portfolio align with your project's needs?
Are they equipped to handle a project of your size? Have they handled similar sized projects before?
Do they have a positive track record in project's they have serviced?
Ask the right questions to help you determine if the firm in question has enough of the right experience to meet your project goals.
Determining if & what project management services are provided
Architects can offer more services than just designing a building. It'll be useful to know if the architect can:
Manage the project

Help hire a contractor

Make design adjustments as the work progresses

Obtain necessary lien waivers from contractors
Determining the project delivery method
Projects may fall into a couple of major delivery methods: Design-Bid-Build or Design-Build. Design-Bid-Build is the most common project delivery method, with the owner hiring separate architects and contractors to complete the project.
The selection process for an architect can be much different depending on the type of delivery method, so you have to know how you'll approach the project before honing in on an architect.
Examining Cost
Cost is always a crucial factor in hiring anyone, but it's also important to note that a lower cost is not always as cost-effective as it seems, while a higher fee does not always provide the quality it appears to.
Instead of thinking solely about the design cost, consider the value you want the firm to bring for the price. It is difficult at the onset of a project to determine the scope and quality of the services that will be required. A fee is best negotiated after determining the required scope of services.
---
First and most importantly, the success of your project is a priority. You should choose a firm who fulfills most if not all of your criteria for success.
---
HIRING A LANDSCAPE ARCHITECT
When setting off to develop a new build to suit location, you'll quickly find that there are many moving pieces to the process before you can be up and running.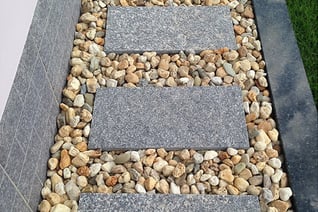 In this blog post, we discuss the questions to ask before hiring your landscape architect who will design the vegetation layout, plant types, irrigation plan, and work with the city and other design professionals to obtain the building permit.
The landscape surrounding your property can be the difference between a functional, aesthetically pleasing exterior space and one that lacks cohesiveness.
So, when hiring your landscape architect, ask the following questions to dig deeper.
Do you have expertise in this land use type and in this area of the country?
The goal in this initial question is to first determine the landscape architect's climate and plant knowledge for the particular area in which your site is located.
While the amount of years in the business will proves withstanding the test of time, perhaps a more important barometer to measure is their specific expertise in the following areas:
Plant types
Not only what the native plants look like, but also which of the plants will work well together
Ground coverings
Such as crushed granite/rock or sod/grass
Irrigation system design
In both desert-like climates and ones that receive a high amount of precipitation per year
Local/regional climates
The landscape should be selected as one with a comparable native climate
Construction documents & specifications
So the

GC

knows exactly what is needed for construction
Knowledge of the permitting process
Check experience with the local jurisdiction of the site
How do you balance cost-effectiveness with meeting my design requirements?
Perhaps the question that carries the most weight is related to how the contractor will treat your budget. You want the landscape architect to put your needs above an opportunity to up-sell because the relationship is more valuable.
Also, you want to hire the one that will meet your company's unique needs, even if it causes more work on their end.
For example, did you know some drive-thru coffee shops ban certain types of flowers from being planted near the drive-thru window to prevent bees from deterring customers?
So, look for the contractor that will pay careful attention to the details.
Can you please clarify and provide proof of insurance for your work?



This question serves as a qualifying one to essentially weed out any non-viable options. Look for answers that encompass both a general business insurance policy along with worker's compensation coverage.
Some legal liabilities associated with your commercial landscape would be tripping hazards, inadequate exterior lighting, overgrown trees/shrubs, flooding/draining issues, fire hazards, and icy conditions. So, you need to ensure your protection.
Then, once you've narrowed down the applicant, be sure to fact check with a simple phone call to the insurance company to verify the dates of active coverage.
*BONUS* Are you recommended by any commercial developers?
If you are debating partnering with a preferred developer for your build to suit project, an advantage would be that they would come equipped with a list of preferred vendors they've had a positive experience with over the years. Choosing this route would also alleviate much of the hiring process stress as well.
---
Commercial landscape architects can make properties look 10 times better just by designing efficient landscaping that complements your brand. So, before you hire, be sure to inquire about these points first.
---
HIRING A CIVIL ENGINEER
As part of our effort to break down the value of hiring different professionals (such as the GC or architects) to assist in the development process, let's look at a profession that's been crucial in just about the entire built world: the civil engineer.
Hiring a quality civil engineer is critical to achieving success in a new commercial development project. Let's break down some of the specifics of what civil engineers do, how the search for one is narrowed down, and how they ultimately provide value to a development project.
The Role of a Civil Engineer
Civil engineers conceive, design, build, supervise, operate, construct, and maintain infrastructure projects in the public and private sector. A civil engineer can identify many of the technical issues relating to the property such as the topographic, environmental, or utility constraints.
Typically, services include master site plan support, master grading and drainage plans, utility plans, preliminary water and wastewater plans, off-site earthwork analysis, among many others.
But profiling a site may also be just a part of a civil engineer's role. They may also be responsible for evaluating zoning restrictions, analyzing existing utility capacities, and determining appropriate building maintenance.
Factors in Hiring a Civil Engineer
Typically, there are several things to consider when reviewing potential civil engineers to work with. Those factors include:
Accreditation
First and foremost, it's imperative to confirm that the civil engineer has the applicable licenses and permit issued by the appropriate government agencies. This ensures the engineer has the verified credentials to do the job properly, which should ultimately help reduce liability.
Experience
Einstein was right when he said, "the only source of knowledge is experience." The amount of quality exposure to design teams that the engineer has is a sign of experience and knowledge.
Particularly, it's important to look at recent experience, as requirements, regulations, and methods are constantly changing.
Land-Use Knowledge
Due to the constantly changing land-use regulations, civil engineers must be up-to-date with the most recent regulations and knowledge of proposed regulatory changes. Knowledge and experience in grading, drainage, and utility plans are major factors.
As it relates to experience, it's important that engineers have filed submissions recently because land-use regulations can change drastically in short periods of time.
Creativity
A good civil engineer will have the ability to provide creative solutions to complex development problems. Civil engineers must be able to envision how the interrelationships change when one or more individual aspects change.
Additionally, the intricacies of financial and site restraints take unique critical thinking skills to develop site concepts that significantly increase the land's value.
The Value of a Civil Engineer
A civil engineer provides the critical skills necessary to assess raw land and the infrastructure that supports development. A civil engineer's role encompasses all aspects of commercial development projects from concept through completion. And through all of these phases, they provide tremendous value in adding value to your project.
Hiring a civil engineer can provide:

Added Oversight
Because civil engineers specialize in monitoring development operations and addressing issues, their use adds an extra level of oversight.
Compliance Expertise
The knowledge of regulations and requirements that civil engineers have provides expertise and assistance in helping projects meet those regulations.
Management Services
Civil engineers may also be hired to manage the implementation of each phase of construction to ensure the specifications noted in the project proposal are appropriately carried out.
Value Maximization
Civil engineers can perceive problems early in the development process and save companies money. They offer the ability to effectively maximize value while minimizing development costs. For example, they might address whether the cost of necessary earthwork exceeds the overall benefits.
---
The use of an experienced, capable civil engineer can determine the direction of your project and is crucial to the quality and success of the development plans.
---
As you can see, hiring for the development of a commercial real estate building on your own is quite the feat. Your hiring decisions can either make or break the success of your project.
So, if you do decide to take the commercial real estate developer route to streamline the entire process and reduce risk, check out the 6 Questions to Ask Your Commercial Real Estate Developer before locking in your partner.