Location

PHOENIX, AZ

Size

±127,280

SF TOTAL

Type

MULTI-TENANT RETAIL CENTER

Service

REDEVELOPMENT & ACQUISITION

Year Purchased

2019

Year Sold

2019 & 2020 (2 parcels only)
In the Summer of 2018, breaking news across several media outlets reported an out-of-control fire from a lightning strike, engulfing the Safeway anchoring a shopping center at 35th and Northern avenues in Phoenix, AZ. The national grocer would not rebuild, causing the surrounding businesses to suffer from the severe lack of traffic to the Park Northern center.
Almost exactly one year after the anchor burned down, SimonCRE saw the vision for the center in Phoenix that could arise from the ashes, and purchased the property with over $18 million redevelopment plans in mind.
The Challenge
First off, the area of Maryvale had lacked economic investment in redevelopment as it was seen as distressed. SimonCRE identified an opportunity where others only saw blight. But completing the sale of Park Northern, which sits on approximately 15 acres, did not fly by without some obstacles in its path.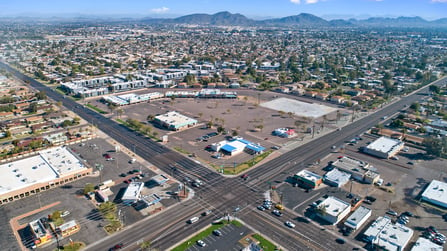 The acquisition process involved navigating a leasehold interest being owned by a special servicer. The site was on a ground lease and SimonCRE had to work with the fee simple owner. Moreover, the property was built in the 1970s and there were no existing easements, plats or governing documents. As if that wasn't enough, SimonCRE had to work through a zoning challenge with the City of Phoenix.
Last but certainly not least, the site was suffering from a dangerously low tenant occupancy of only 34%. The former anchor space (Safeway) needed to be built from scratch and filled with a reliable, desirable tenant to bring the community back in.
The Solution
Fortunately, Park Northern already had the advantages of being minutes from Interstate-17, excellent visibility, and nested at a signalized intersection with a dense surrounding population — but that wasn't enough to rise its occupancy up to a vital level.
The revitalization of Park Northern began with backfilling the former Safeway footprint with a 60,000-square-foot VASA Fitness. Note: This portion was parceled off and sold in 2019. The national gym franchise officially opened its doors in March 2021.
SimonCRE also successfully signed an education user, CASA Academy, to lease 12,239 square feet of remodeled temporary space until it moves to its purchased portion of the center, which is 26,317 square feet.
The first phase of Park Northern's redevelopment was completed by early 2021 and included updates such as new roofing and paint. One of the new tenants, the U.S. Armed Forces Career Center, called upon SimonCRE to complete its ±2,000-square-foot build out.
The Result
Park Northern has spread its wings, boasting about a 96% occupancy rate with strong tenants including CASA Academy, VASA Fitness, Chuck E Cheese, Subway, H&R Block, U.S. Armed Forces Career Center, Metro PCS, Water N' Ice, LoanMax Title Loans, and more.
"We're grateful for the opportunity to rebuild a neighborhood center that needed a restart and are excited to welcome community-driven VASA Fitness and CASA Academy to Park Northern," said Joshua Simon, Founder and CEO of SimonCRE.
It is important to note that the opening of VASA Fitness occurred during the global pandemic, an extremely tough time for gyms. The SimonCRE team had gone above and beyond during low times in the development and construction of Park Northern.

For the most updated information on this project, please visit its property page.
---