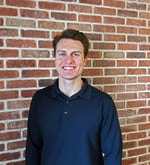 SimonCRE is proud to name Austin Gottsacker as Acquisition and Leasing Manager. Austin first started with SimonCRE in 2015 as a Development Associate and has played a vital role in site selection for the company's continually growing portfolio.
As Acquisition and Leasing Manager, Austin works closely with the development team by performing due diligence as it pertains to site selections across the country for SimonCRE's national clients. He prepares and negotiates contracts, researches market data and site data, investigates fees and permits, and other research that will greatly assist the development teams in the accurate execution of project timelines.
"We're very excited to promote from within and name Austin as our new Acquisition and Leasing Manager, says Joshua Simon, President of SimonCRE. "Austin has been with us for awhile now and he's proven to be an exceptional asset to the company, with the ability to handle and adapt to new roles and challenges."
Prior to joining SimonCRE, Austin worked with the Russell Shaw Group negotiating contracts, coordinating signings, and helping manage more than 75 active listings. He also worked with Goddes Homes, a residential real estate firm where he was a real estate agent working with clients to show homes, negotiate contracts, and advise his clients through the home buying process.