Location

TEMPE, AZ

Size

±

3,300 SF &

±

3,700 SF

Type

MULTI-TENANT RETAIL

Service

REDEVELOPMENT

Year Completed

2016

Year Sold

2016
Although it's ideally located in the heart of the Arizona State University trade area, redeveloping the freestanding multi-tenant retail building that was bordering on obsolescence was not without its complications. Blaze Pizza, backed by LeBron James and other big-name investors, was eyeing to open its first location in Tempe, AZ.
The Challenge
Where the Blaze Pizza and First Watch stand today at the corner of University Drive and Mill Avenue was once a struggling ZIA Records and bike shop, respectively.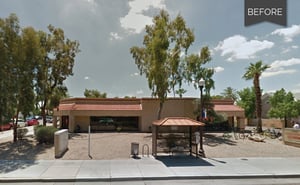 The conversion to operational restaurants was the main hurdle, especially because it didn't have the adequate parking required.
Additionally, working on a 30+ year old building presents its own array of challenges including hidden costs to account for having to adjust the water capacity, sprinklers, increased power, and adding grease traps.
The Solution
Due to the nature of it becoming a restaurant, SimonCRE demonstrated its expertise and took thorough steps to meet requirements and all safety measures. The plans had included bringing the interior to a vanilla shell, renovating the exterior facade, and completing various site and utility improvements.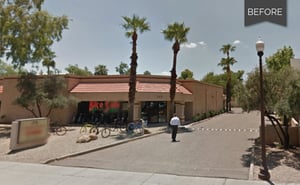 To increase parking to the proper amount, SimonCRE worked with the City of Tempe, who had a program in place to allow this special type of adaptive reuse, but hadn't ever implemented it. This strategy also aided in the ability to turn projects around quicker, with a more streamlined entitlement and public hearing process. SimonCRE was a pioneer in advantageously working with the city under this adaptive reuse-friendly initiative.
The Result
The two-tenant retail building sold in August 2016, with Blaze Pizza opening its doors earlier that Spring and First Watch open for business about six months thereafter.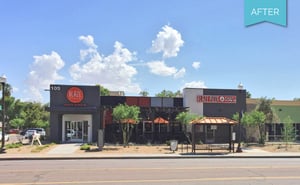 Redeveloping the former record store and bike shop in Tempe, AZ was not an easy feat, but as Thomas Jefferson famously said, "with great risk comes great reward."
The property seated with great visibility along University Drive also has new nearby multifamily developments including the Emerson Mill Avenue apartment complex, as well as a 40,000-square-foot Whole Foods Market.
SimonCRE recognized a diamond in the rough in taking on this Tempe, AZ retail redevelopment, and kept its eyes on the prize during the inevitable hardships that arise when dealing with a decades-old building with a different former use.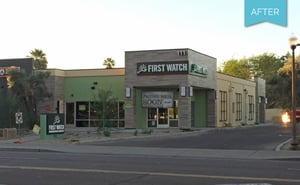 "This project represents a great collaboration between the city and a private party, where a new program for development was created but hadn't yet been put to use," said Joshua Simon, Chief Executive Officer and Founder of SimonCRE. "We appreciated the opportunity to pave the way and work together to refine the program, so that it may be used for other beneficial projects in the future."
---