Location

PHOENIX, AZ

Size

±

4,431 SF

Type

SINGLE-TENANT RETAIL

Service

REDEVELOPMENT

Year Completed

2019

Year Sold

-
Loved as a landmark in the Arcadia neighborhood of Phoenix, AZ for years, the Hazelwoods First Place Sports Grill was destined to serve a greater purpose. So, when the owners declared it was time to retire and closed up shop in 2016, SimonCRE was quick to see the former bar as a diamond in the rough.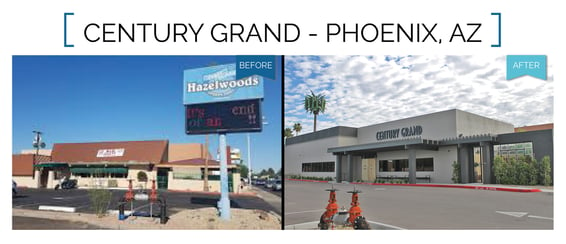 The national developer identified the unique property for its size especially, as having an acre lot commercial building is quite rare in that neighborhood. Additional "selling points" were having the ideal ceiling height and abundance of parking at about 55 spaces.
In addition to size, a contributing factor to SimonCRE's initial decision to purchase the property was the actual building structure. Because some of the original walls were able to be retained, the project skipped the lengthy entitlement process to bring it back up to code.
The Challenge
SimonCRE had first placed a Gino's East pizza location in the ±4,431-square-foot restaurant building, which came with challenges of its own. For one, the utilities in the busy Indian School Road were 70+ years old and would be very difficult to tie into.
To top it off, there were multiple lines and other utilities laying on top of each other, making it a dangerous situation to have to navigate.
Then, when Gino's East had to eventually close its doors, the unexpected news of the closure presented the challenge of having to find another tenant swiftly.
The Solution
With a formula of coordinating with expert consultants, having effective management, and overall leadership allotting a higher amount of resources — the result was carefully handling the utilities issue at hand.
Proactively, SimonCRE added value to the property by partnering with Verizon Wireless in a mutually beneficial agreement to install a cell tower behind the building to fix a gap in service, and in turn, earn an additional income stream.
After the Gino's East closure, SimonCRE hustled to solicit a qualified tenant and was able to secure a new restaurant from the popular Phoenix-based Barter & Shake hospitality group with relatively little downtime.
The Result
Today, the property that sits on a ±27,500-square-foot lot maintains its revenue-generating Verizon cell tower lease. The building has welcomed a new, cool concept called Century Grand in September 2019.
This turn-of-the-century inspired dining experience caught immediate attention for its unique style and approach of a Prohibition-era train themed cocktail bar.
"I believe calling on the relationships we've cultivated over the years and finding a qualified tenant quickly demonstrates our ability to get properties leased and overall understanding of the market," said Joshua Simon, Chief Executive Officer and Founder of SimonCRE. "We couldn't be more grateful for our quality relationships in the industry."
---